Care Instructions For A New Tattoo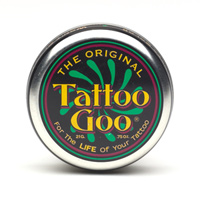 Leave the bandage on for about an hour. If it sticks when you try to take it off, soak it down in cold water, then wash the tattoo with antibacterial soap using your fingers only. (NO washclothes, sponges, lather-builders, etc.) Let the tattoo stand and dry (about 20 minutes). If you use Tattoo Goo, (available at the Studio) you can start using it 2 or 3 hours after you take your bandage off. If you use lotion, wait until the following day. Use any hand lotion (NON-MEDICATED, no aloe, no fragrance, no alcohol.) Apply lotion or Tattoo Goo 2 or 3 times a day using a thin amount. Make sure you keep your tattoo clean and that it is dry before you apply any healing products.


DON'T PICK AT YOUR TATTOO WHILE IT IS HEALING!!!!
DO NOT SOAK OR SUBMERGE THE TATTOO AT ANY TIME.
ABSOLUTELY NO SUN WHILE IT IS HEALING.
IF ITCHING OCCURS, ALLEVIATE BY SLAPPING, DO NOT SCRATCH!
AFTER IT HEALS, ALWAYS USE SUNBLOCK WHEN EXPOSED TO SUN!

If you follow these directions carefully your tattoo will heal in roughly 10 days with lotion, 5 with Tattoo Goo.




If you have any other questions or concerns, please do not hesitate to contact us. You can send us e-mail by clicking HERE or call Tim @ 860-886-8287..




---
Care Instructions for TONGUE, LIPS, LABRETS PIERCINGS
Your piercing can take at least 4 to 8 weeks to heal. This piercing has special aftercare and needs special attention. You may swell the first 24 to 48 hours after the piercing. Keep ice in your mouth to help reduce the swelling. DO NOT SUCK ON THE ICE! Sucking on it will cause MORE swelling. For the first week, you may want to avoid spicy and hard to chew foods. Definitely avoid oral contact. NO KISSING or oral activity for at least a few weeks. The easiest way to clean your piercing is:


Rinse your mouth frequently with Sea Salt and water or Tech 2000 mouthwash.

Wash out your mouth immediately after putting anything in it other than water. (This includes smoking, chewing gum, kissing, etc.)
---
Care for NIPPLES, NAVELS, MALE & FEMALE GENITALS piercings
Navel and nipple piercings can take 9 months to 1 year to heal and genital piercings can take 4 to 8 weeks. You want to clean your piercing at least one or twice a day. Here's the best way to do it: Take a shower. Let your piercing soak for a little while. It softens the crust that forms on the piercing. Take a clean washcloth and gently scrub the crust from your jewelry and piercing. Using anti-bacterial soap, wash the piercing and completely rinse out all of the soap. Put some Sea Salt or anti-bacterial soap and water on the piercing and work the jewelry so that the Sea Salt or anti-bacterial soap and water gets into the piercing.